BudgetiX – the Campaign Daily Budget plugin for Revive Adserver – has been designed to enhance the two campaign types "Remnant" and "Override" so that you can define a daily maximum number of impressions. We've called it "BudgetiX" because it effectively limits how much of a campaign's overall budget will be spent each day.
Having a daily budget on a Remnant or Override campaigns is similar to a Contract campaign, with one important difference: Contract campaigns are supposed to deliver their target number of impressions, whereas a Remnant campaign with BudgetiX will never go over the daily budget, but can end up delivering significantly less if other campaigns take more of the overall available impressions.
Being able to define a maximum number of daily impressions should ensure that a campaign does not go over that limit, but it could mean that it will delivery fewer impressions than the set maximum. This could happen, for example, when your ordinary contract campaigns require so many of the total number of available impressions, that there isn't enough left for remnant campaigns.
Product information and screenshots
Once the plugin has been installed, you will notice that a new tab appears when viewing any campaign:

Clicking it will reveal the page to adjust the settings for that campaign. By default, any campaign is set to 'unlimited', which is default behavior of the core application. However, if you uncheck that box, the data entry field will be enabled, and you can enter a number for the maximum number of daily impressions:

This setting is stored in a table that's created when you install the plugin, so it does not interfere with the core application in any way.
The impressions will be distributed across the 24 hours in the day according to a weighting model you can manually define. Most people we know set this according to the traffic pattern they have established by looking at global statistics or other stats. This is what it looks like (only part of the screen):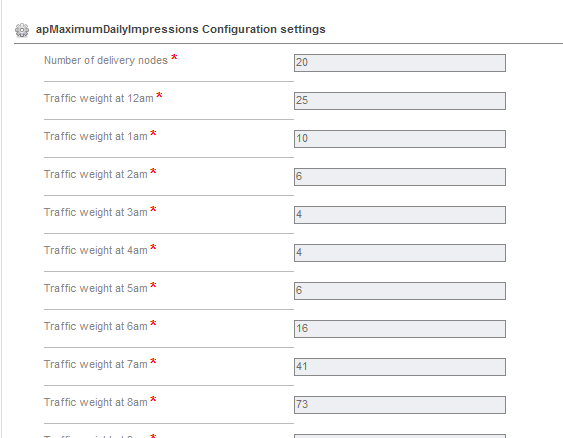 As you can see, we also have an option to specify how many delivery servers are in use. This enables the plugin to take care of traffic distribution in the delivery engines without having to contact the master server each time. These weights are stored in the configuration file.
Pricing
A license of the BudgetiX plugin costs a one time fee of 2.500 euro, which gives you a life time license. This fee also includes technical support and any software upgrades we release during the first 12 months after you've purchased the license. From the second year onward, there is an Upgrade Subscription program. For a yearly fee of 15% of the original license fee (so just 375 euro per year), you will continue to receive technical support and software upgrades. You can cancel the Upgrade Subscription before the end of each term, at which time you can just continue to use the software in whatever version you have at that time, but you would not be entitled to the support and upgrades anymore.
Contact us to purchase BudgetiX
Please use this form to contact us if you're interested in buying a license of the BudgetiX plugin.