Features of VidiX
Advanced Video Ads plugin for Revive Adserver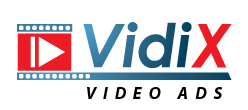 The VidiX plugin was designed to be simple to use, yet fully compliant with the VAST 2.0 protocol defined by the IAB. The plugin has the following features:
Creating a self-hosted in-stream video ad
The VidiX plugin extends the built-in functionality of Revive Adserver to enable specifying multiple media file formats.
When VidiX is installed, a new tab appears on any existing Video Ads banner, with fields to specify two additional media files

Creating a third-party network video ad
The VidiX plugin adds a custom banner type called "Network Video Ad":
Once this type has been selected, you can enter a VAST 2.0 tag received from a third party:

Entering additional third party trackers
A much requested feature for video ads, is the ability to enter additional third party trackers. In traditional banners, this can be implemented easily with the help of the Append field in the Advanced tab, but this is ignored with video ads. The Advanced Video Ads plugin presents a new "Additional trackers" tab:
On this tab, there is a box where any number of trackers can be pasted:

Each of these trackers will be included in the XML output of the VAST2 tag that is produced by the zone to which this banner is linked.
Generating a VAST2 video invocation code (a "VAST2 tag") from Revive Adserver
The VidiX plugin extends any zone defined as type "in-line video" with a new tab called "VAST 2.0" invocation code: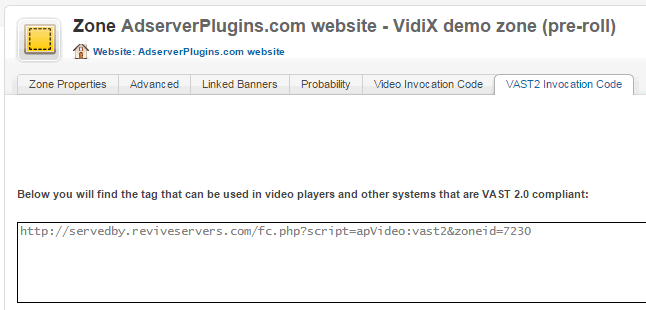 Simply copy the invocation code provided on the page and use it to configure any VAST2 compliant video player to request ads from this zone. Or send this VAST2 tag to any third party publisher, ad network, or exchange in order to deliver VAST2 pre-roll ads to others.
I got the software and had no problem with installation. We tested an invocation tag on a VAST validator and it's working flawlessly.