The Dashboard plugin for Revive Adserver helps you save time and effort by presenting all important information about your campaigns on a single screen, with a comprehensive visual progress indicator for each campaign.
Or continue reading and learn more about the powerful and time saving features of DashiX.
New Dashboard tab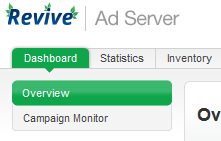 Installing the DashiX plugin creates an additional tab in the Revive Adserver user interface, simply named Dashboard. It comes with 2 dashboard elements, an Overview of your ad server and a Campaign Monitor that enables you to see how all of your active campaigns are doing.
Overview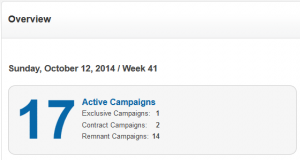 The DashiX plugin has an Overview that shows you how many active campaigns there are, including a breakdown by type: exclusive, contract and remnant.
Clicking the large number opens the Campaign Monitor tab which provides a one-screen overview of all active campaigns. You can also click the "Campaign Monitor" menu item on the left.
Campaign Monitor
The Campaign Monitor is a very powerful yet simple to use tool to see all active campaigns on a single page. First there is a section for the Exclusive campaigns (if any exist), next the Contract campaigns, and finally the Remnant campaigns.
Campaigns are ordered by their end dates, with the campaign(s) that will expire first at the top. Each campaign has link to the campaign properties and advertiser properties screens, but the most important parameters like the target number of impressions, rate, start and end date are displayed here already. You will also see how much time remains for each campaign.
Visual progress indicator
The blue progress bar indicates the percentage time progress relative to the total duration of the campaign.
Directly under the time progress bar, there is a target progress bar that displays how well the campaign is doing. If all goes well, the target progress bar will be almost identical to the time progress bar, and this is also indicated by the green color of the target progress bar.
If the campaign is slightly behind or ahead of schedule, the target progress bar will turn yellow, but you will also notice that the progress bar is shorter or longer than the time progress bar, giving you a quick visual indication.
If the progress of the campaign is too far behind or ahead of schedule, the target progress bar will turn red. This provides a very strong visual clue about campaigns that are in trouble and need to be actively managed.
Customer review of DashiX:
@erikgeurts Just installed DashiX on our revive adserver. Great work, it's as simple as it is useful! The missing feature of revive…

— Onno Bosch (@eauneau) September 30, 2014
Buy DashiX – Revive Adserver dashboard plugin for $149
Your Dashboard plugin for Revive Adserver can be in your inbox in less than a minute.