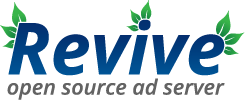 Revive Adserver v4.0 is now available.
This major new release contains several exciting enhancements and improvements. Just to name a few:
Revive Adserver now works with PHP7+, without the need for complicated configuration of the integration from PHP to MySQL.
The functionality to target specific operating systems and browsers has been updated to include current-day versions of both, and the ad delivery speed when using these targeting options has been improved significantly.
To support the use of HTML5 banners after the demise of Flash, the maximum size for the HTML banner field has been increased from 64 Kilo byte to 16 Mega byte.
In addition, there are numerous small improvements and bug fixes, plus patches for 3 low risk security issues that were recently discovered.
More information about this release can be found on the blog post published by the Revive Adserver project.