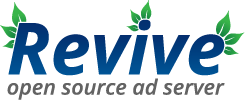 Revive Adserver v4.1 is now available.
This major new release contains several exciting enhancements and improvements. Just to name a few:
Revive Adserver now supports uploading HTML5 ads, directly from inside the user interface.
The "Delivery Limitations" feature was renamed to "Delivery Rules" to be more in line with other well known ad systems and to make it more clear to users what the feature is designed for.
A new delivery rule was added that enables users to white list or black lists entire sets of domain names or hostnames.
Clicking a banner that has been deactivated, or that is part of a campaign that is no longer active or has expired, will not result in the click being counted or the user being redirected to the landing page URL.
In addition, there are numerous small improvements and bug fixes.
More information about this release can be found on the blog post published by the Revive Adserver project.